New Locomotive Skins.
Indian Railways.
Engines.
WCAM-2P LOCOMOTIVE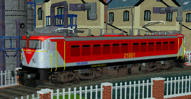 Viral has done these skin replacement for the wcam-2p locomotive that was released by Karel.
Thank You Viral Bhavsa for this nice new set.
Credits: Viral Bhavsa of India.
' Here Presenting the king of Indian railways its WCAM-2P of Valsad Shed
and ya you need to install wam-4 locomotive from karel's Sir website.
http://rtrmodels.weebly.com/models.html
and then replace its dds file with this one...by renaming this with wam-4!!
http://www.mediafire.com/?k6wc81lhw6av2zi '
File location: C:\Program Files\BrainBombers\Rule the Rail!\Scenes\trains
Note: Back-Up/Re-Name the old one before you put these in the folder.